Amazon EFS is an implementation of the Network File System (NFSv4) delivered as a service. File systems can be created and mounted on multiple Linux instances at the same time. Use EFS when you need a "file system" that can be accessed from multiple instances (e.g., shared media, home folders, documentation, shared logs).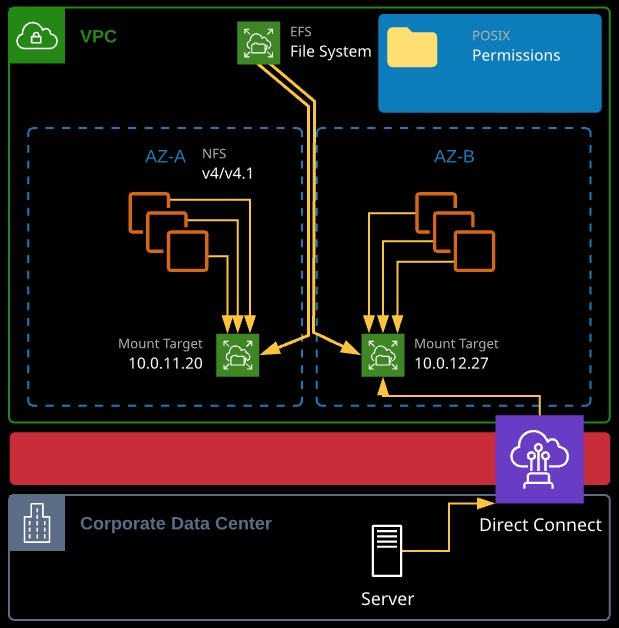 1. Highly available, scalable file system:
Spans multiple Availability Zones
Throughput for parallel workloads:  Big Data, Analytics, Media Processing, Content Management, Web Serving
2. Shared data store that can be mounted to multiple EC2 instances or on-premises servers:
For on-premises servers, use AWS Direct Connect or AWS VPN
3. Linux-only;  Windows is not supported
4. Two performance modes:
General Purpose – the default and suitable for 99% of needs)
Max I/O – designed for when a large number of instances [as in, hundreds] need to access the file system. Scales throughput and IOPS (slightly higher latencies)
5. Bursting:
Burst to 100 MiB/s for any size file system
Larger than 1 TiB = bursting 100 MiB/s per TiB of data stored
Credit system: Earns credits at 50 MiB/s per TiB of data stored
6. Security groups should be used to control NFS traffic
Use the EC2 security group as the source
7. Supports encryption at rest and in transit
8. Storage classes and lifecycle management:
Standard
Infrequent Access (IA)
Lifecycle management automatically moves files to IA not accessed for 30 days
Its base entity is a file system.
The file system is accessed via "mount targets" that are placed in subnets inside a VPC and have an IP address. The file system is "mounted" on Linux instances
File systems are accessible from a VPC or from on-premises locations via a VPN or Direct Connect.
CloudWatch Metrics
BurstCreditBatance
ClientConnections
DataReadI0Bytes
DataWriteI0Bytes
MetadataI0Bytes
PercentIOLimit
PermittedThroughput
TotalI0Bytes
EFS metric data is sent to CloudWatch at one-minute intervals and retained for 15 months.