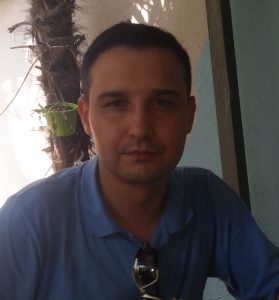 My adventure with IT started in the 5th grade of elementary school with the Commodore64 computer, which of course I only played on at first, but later I started writing simple BASIC programs. My next computers were PCs with DOS and newer versions of Windows and Pascal language.
In 1999, I "made acquaintance" with the GNU / Linux system on Red Hat. Later I "fell in love" with Slackware, Gentoo, Debian and CentOS. In 2000, while studying computer science daily at the Silesian University of Technology, I started the initiative of building a housing estate network in Mysłowice. Soon I started a company and the network started to cover three cities (Mysłowice, Katowice, Oświęcim). The development of the Internet Service Provider (ISP) company pushed me towards creating my own Municipal Computer Network Management System (SZMSK). This system was my diploma thesis, it improved the management and maintenance of the network as well as running the company from the accounting and "paper" side.
Currently, I am still "wiring" the surrounding cities and "humming" the ether in them with electromagnetic waves. I pass a lot of electrons through the cross-sections of conductors, exploiting all kinds of OSs and active network devices. I often have my head in the clouds (AWS). I also develop various code. Outside of work, I find time for sports (swimming, cycling), cooking, a good movie (many films) and cool music (film, electronic, rock, metal). I am also interested in history and healthy eating. I like visiting various beautiful corners of Poland and the world.
Moja przygoda z IT rozpoczęła się w V klasie podstawówki od komputera Commodore64, na którym to rzecz jasna początkowo tylko grałem, później jednak zacząłem pisać proste programy w języku BASIC. Kolejnymi moimi komputerami były już PC-ty z DOS-em i coraz to nowymi wersjami Windowsów i językiem Pascal.
W 1999 r. "nawiązałem znajomość" z systemem GNU/Linux w dystrybucji Red Hat. Później "zakochałem" się w Slackware, Gentoo, Debian czy CentOS. W 2000 r. studiując dziennie informatykę na Politechnice Śląskiej rozpocząłem inicjatywę budowy sieci osiedlowej w Mysłowicach. Wkrótce założyłem firmę, a sieć zaczęła obejmować swym zasięgiem trzy miasta (Mysłowice, Katowice, Oświęcim). Rozwój firmy zajmującej się dostawą usług internetowych (ISP) popchnął mnie w kierunku stworzenia własnego Systemu Zarządzania Miejską Siecią Komputerową (SZMSK). System ten był moją pracą dyplomową, usprawniał zarządzanie i utrzymanie sieci a także prowadzenie przedsiębiorstwa od strony księgowej i "papierowej".
Aktualnie nadal "okablowuję" okoliczne miasta i "zaszumiam" w nich eter falami elektromagnetycznymi. Przepuszczam dużo elektronów przez poprzeczne przekroje przewodników eksploatując wszelkiej maści OS-y i urządzenia aktywne sieci. Często mam głowę w chmurach (AWS). Piszę też różne "robaczki" w edytorach kodu i czarnych konsolach. Poza pracą znajduję czas na sport (pływanie, jazda na rowerze), gotowanie, dobry film (wiele filmów) i fajną muzykę (filmowa, elektroniczna, rock, metal). Interesuję się także historią i zdrowym odżywianiem. Lubię zwiedzać różne piękne zakątki Polski i świata.