VPC (Virtual Private Cloud)
Isolate workloads into separate VPCs (based on application, department, test, dev, etc.)
Security features in Amazon VPC include:
Network ACLs
Security groups
Routing tables
External gateways
NACLs (Network Access Control Lists)
Works at the subnet level
Stateless = inbound and outbound rules are separate, no dependencies
Granular control over IP protocols (allow and deny rules for inbound and outbound evaluated in order)
Work with security groups (NACL applies for the whole subnet, security groups apply to members)
Ephemeral ports: Client requests depending on OS (ports 1024-65535)
Security Groups
Security groups are software firewalls that can be attached to network interfaces and (by association) products in AWS. Security groups each have inbound rules and outbound rules. A rule allows traffic to or from a source (IP, network, named AWS entity) and protocol.
Security groups have a hidden implicit/default deny rule but cannot explicitly deny traffic.
They are stateful — meaning for any traffic allowed in/out, the return traffic is automatically allowed. Security groups can reference AWS resources, other security groups, and even themselves.
Works at the interface level
Default group enables inbound communication from other members of the same group and outbound communication to any destiny.
Group instances with similar functions
Stateful = every allowed TCP or UDP port will be allowed in both directions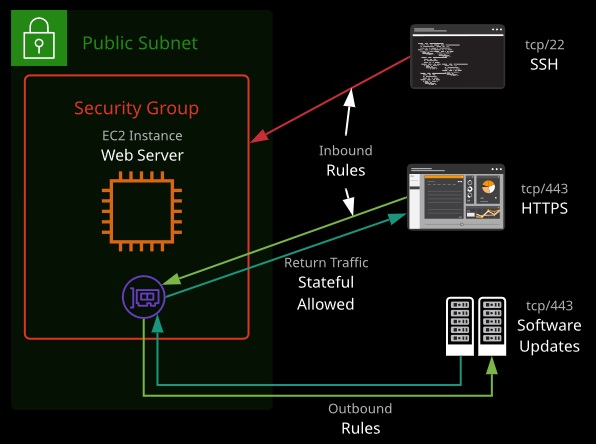 Host-Based Firewalls: OS-level firewalls as needed
AWS Web Aplication Firewall (AWS WAF)
WAF rules are based on conditions, such as:
• IP addresses
• HTTP headers
• HTTP body
• Uniform Resource Identifier (URI) strings
• SQL injection
• Cross-site scripting (XSS)
Integrated with AWS services:
• CloudFront
• API Gateway
• Application Load Balancer
When using WAF on ALB, rules run in region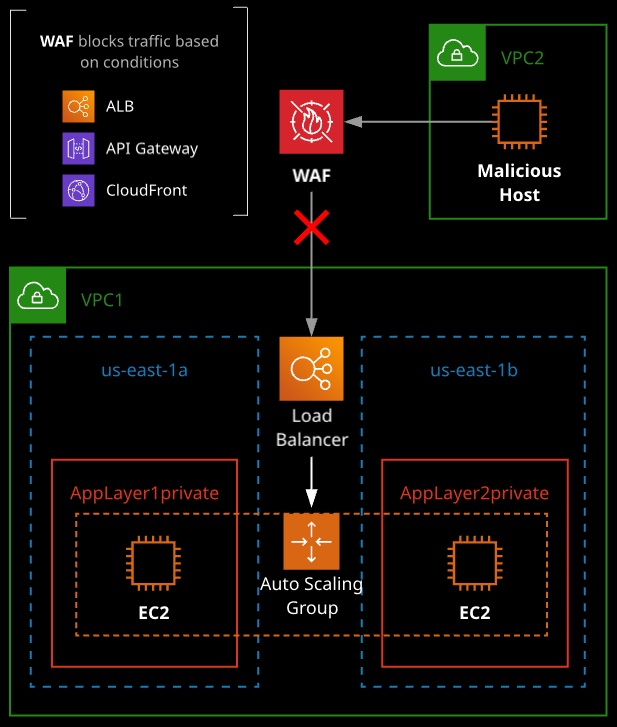 AWS Shield
Service that helps protect your applications from DDoS attack.
Mittigates 99% of attacks in 5 minutes or less.
Mittigates attacks aganist Elastic Load Balancing in less than 5 minutes.
Mittigates attacks aganist CloudFront and Route 53 in less than 1 second
Usually mitigates all other attack in less than 20 minutes.
Two flavors of AWS Shield:
Standard – defends aganist common layer 3 and 4 DDos attacks as SYN flood and UDP reflection attacks. Shield standard is automatically activated and no additional cost for all AWS customers.
Advanced – provides the same protection as Shield Standard but also includes protection aganist layer 7 attacks, such as HTTP flood attacks that overhelm an application with HTTP GET or POST requests. EC2 instance must have elastic IP address to obtain layer 7 protection. You also get attack notifications, forensic reports, and 24/7 assistance from AWS DDoS response team. AWS WAF is included at no charge.
Bastion Hosts
"Gate" that protects our infrastructure but allows access for updates or other management
 Used to control remote access (e.g., via RDP or SSH)
These should be hardened and secured very carefully and regularly
Can have an Elastic IP address that never changes and can be whitelisted
We can have standby bastion hosts for higher availability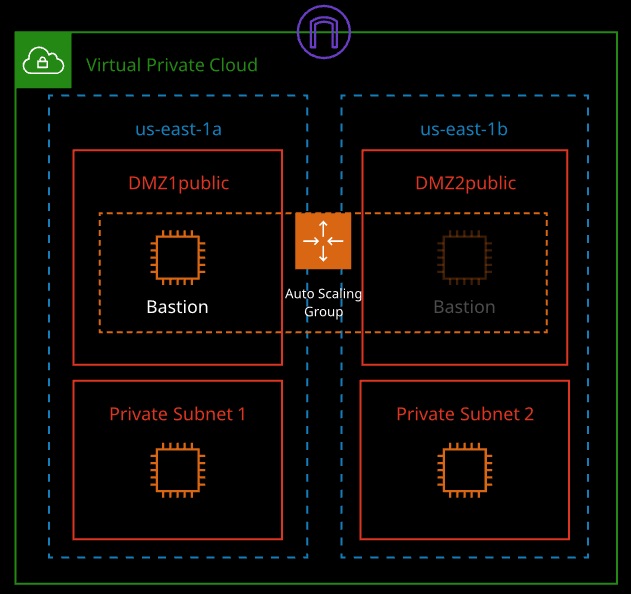 NAT Gateways
Enable instances in a private subnet to access the Internet for updates
The instances in a private subnet are not accessible via the Internet
If updates/outside communication is business critical, consider using multiple NAT gateways